Explore tunisia...
Where do you want to go ?
Airports
World Heritage Sites
Beach Resorts
Archaeological Sites
Nature and Traditions
War Graves & Battlefields
Tabarka
On the North coast, and against the spectacular backdrop of the cork-oak covered Khroumirie Mountains, Tabarka's natural harbour has been a magnet for sailors since Phoenician times.
The town has a marina and fishing port and several small hotels, but the majority are found along the sandy beaches east of the town centre. Some of the best diving in Tunisia is to be had in the sea around this coast and Tabarka's golf course is probably the most scenic in the country. Tabarka also hosts several international summer music festivals, most notably the International Jazz Festival.
What to see

The Genoese fortress
Set on a rock linked to the town by a short causeway, this 16th century castle once belonged to a Genoese family. It is possible to walk up to and around its walls though not always possible to see inside as there are sometimes military personnel based there.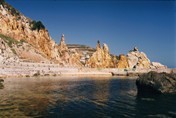 Les Aiguilles (The Needles)
Jagged rocks formations standing in a row to the west of the port.
Nearby
Ain Draham (20 Kms)
Set on the edge of an immense forest, Ain Draham is a small red-roofed village offering an authentic, picturesque atmosphere. It is an important destination for Tunisian and foreign hunters.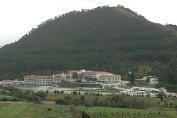 Hammam Bourguiba (20 Kms)
A spa resort in the middle of a forest datign back to antiquity.

Sejnane (60 Kms)
A typical village famous for its storks which nest on the roofs in spring and its rustic modelled pottery decorated with naive designs.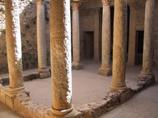 Bulla Regia "Royal Bulla" (50 Kms)
Royal Bulla is set in the hills above the Madjerda valley. This Roman site is distinguished by its Underground villas and it includes the Forum (with the capitol and the Temple of Appolo) and the Theatre.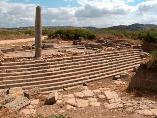 Chemtou "Simitthus" (70 Kms)
On a hillside 20 kilometres from Jendouba and famous throughout the Roman Empire for its marble. Simitthus includes Marble quarries, The prison campsn a hilltop Altar and a Theatre.
Where to stay