Explore tunisia...
Where do you want to go ?
Airports
World Heritage Sites
Beach Resorts
Archaeological Sites
Nature and Traditions
War Graves & Battlefields
Nefta
Close to Tozeur and set in a canyon, the oasis of Nefta known as the 'Corbeille' (basket), has around half a million date palms and many natural springs. The town itself is something of a religious centre and is home to some hundred or more marabouts (holymen mausoleums) and over 20 mosques.
What to see
The Oasis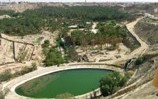 The Osais of Nefta is built around a huge palm filled crater called the Corbeille (basket). It is made up of 300,000 date palms of supreme quality. The setting is picturesque with all the narrow roads running through the groves.
Nearby
Tozeur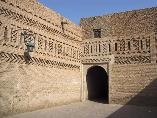 Known as the Pearl of the Jerid and is situated on the edge of the huge Chott El Jerid salt lake and is both an oasis and a city. It is the commercial centre of the region and is famous for its 'deglet nour' (finger of light) dates.
Tamerza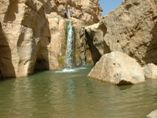 Situated between Mides and Chebika, Tamerza with its two waterfallls, is one of the most densely cultivated of the Jerid oases. The original town was abadoned after floods at the end of the 1960's but there remain three marabouts (burial places of holy men) which are maintained and the old village is interesting to walk around.
Chebika (80 Kms)

The Romans had an outpost here called Ad Speculum as it was from here that message were sent by mirror (speculum) keeping count of the caravans on their way to Tozeur. Nowadays there is a new settlement at the Chebika oasis, with behind it the old village perching on a rock platform next to a steep gorge with a waterfall which feeds the agricultural land below.
Mides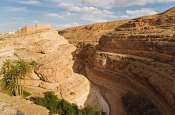 The mountain oasis of Mides has the old Berber village at one end of the oasis and the newer settlement at the other. From the top of the hill, above the narrow streets, the panorama is spectacular, with the old houses clinging to the rock face of a deep gorge.
Douz

An excellent location from which to explore the surrounding dunes and oases. It hosts an annual 'Festival of the Sahara' where the traditional skills, music and culture of the region are displayed, attracting visitors from near and far.
Where to stay