Explore tunisia...
Where do you want to go ?
Airports
World Heritage Sites
Beach Resorts
Archaeological Sites
Nature and Traditions
War Graves & Battlefields
Djerba Island
Djerba is believed to be the home of the mythical lotus eaters set like a jewel in the blue waters of the Mediterranean with miles of golden sandy beaches. Hotels are found mostly on the northern edge of the island, there is an excellent golf course, and the mainland is reached by ferry or causeway. The island has a style and character all of its own.
What to see
Houmt Souk

Houmt Souk is the delightful capital of the lovely island of Djerba.The town is centred around the beautiful and lively markets. There are two, one vaulted souk and another for foodstuffs. The small and colourful souk ends in a couple of squares that are filled with outdoor cafés. It is a delightful place to explore.
The Synagogue (Hara Sghira)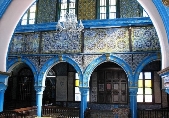 The Ghriba Synagogue is the focal holiest point of the Jews in North Africa and the main centre of the Jerban Jews at El Hara Sghira (currently known as Er-Riadh). It is the destination of an annual pilgrimage of many Tunisian Jews for the holiday of Lag BaOmer, which takes place after the celebration of Passover.
Guellala and its museum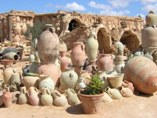 Is a big handicrafts-producing village famous for its unglazed berber pottery. Its main street is the only souvenir stall that comes without strong colours. This is the only one left that shows how ceramics were made before in this town and the only one selling stuff without the totally inaccurate paintings. The museum of Gullala recreates scenes from traditional life in the island.
Nearby
Medenine (100 Kms)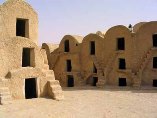 Medenine is the town of the famous ksours or ghorfas. This part of the village was the only form of permanent home for a local nomads. Extremely well-kept ghorfas are still in use and lived in. Medenine is 65 km from Djerba, at about 1 hour drive.
Tataouine (149 Kms)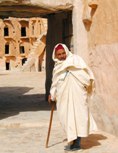 Deep in the south centre at 160 km from Djerba, Tataouine is an excellent base from which to explore the surrounding region with its Berber hill villages such as Chenini and Douiret and its ksours (fortified grain stores), such as Ksar Megalba, Ksar Aoudad and Ksar Ouled Soltane.
Matmata (160 Kms)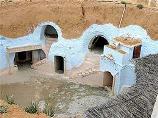 About 120 km from Djerba (one and a half hour drive away), Matmata is surrounded by a landscape that is almost lunar and that will be familiar to lovers of the Star Wars movies. The courtyard was dug straight down into the earth and many of the inhabitants of Matmata still live in this way today, keeping living quarters cool in summer and warm in winter.
Ksar Ghilane (200 Kms)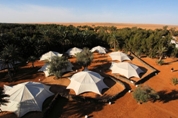 Ksar Ghilane, at around 200 kms away from Djerba, is a true oasis in Tunisia, an image of a green palm garden with a little lake in the middle and surrounded by sand dunes.
Where to stay
Where to eat and drink