Explore tunisia...
Where do you want to go ?
Airports
World Heritage Sites
Beach Resorts
Archaeological Sites
Nature and Traditions
War Graves & Battlefields
Nabeul
Known as the ceramic capital of Tunisia, Nabeul-originally from the Greek Neapolis 'New City' - is 12 kms north of Hammamet and has the biggest weekly market in the area held every Friday morning. It is also a holiday resort with long stretches of sandy beach. There is a small but interesting museum in town with Punic and Roman artefacts and an archaeological site, Neapolis where the ruins indicate the Romans had a thriving fish salting industry.
What to see
The Medina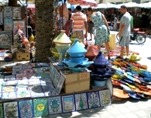 It is a popular tourist destination and the main centre of the Tunisian pottery industry dating back to Roman times. The distinctive and very collectable blue and white pottery can be bought all over Tunisia but Nabeul offers one of the widest selections. Nabeul plays every friday host to a so-called Camel Market which seems to draw considerably more tourists than it does camels - a good opportunity for shopping and hunting for bargains.
Crafts and Traditions Center
An amazing handicrafts center which houses a hugely diversified range of pottery and crafts work provided by talented specialists including wrought iron work, painting on glass, sculpted stone and much more.
The Archeological Museum

This museum is a small but very interesting one. It displays materials from the Punic and Roman periods including mosaics, oil lamps, jewelry and coins. It also houses the clay statues of the Carthaginian deities Baal Hammon and Tanit.
Neapolis Archeological Site

Neapolis was the Greek name for a Roman colony built over Punic ruins. It is one of the most impressive sites in Cap Bon regarding its antiquity (being of Greek, then Carthage, then Rome, then the Arab conquest). There are remains of ancient houses and garum factory.
Nearby
Dar Chaabane (2 Kms)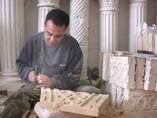 Dar Chabaane, 2 km from Nabeul is a small town famous for its stone carvers and their much sought after honeycomb patterns chiselled into chalky limestone.

Kelibia (58 Kms)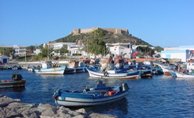 Located on the Cap Bon coast, Kelibia is a picturesque and thriving a small fishing port. The town is overlooked by a fort built on a hill top, offering excellent views of the surrounding area.

El Haouaria (83 Kms)
A charming town famed for its birdlife (there is a wildlife information centre just outside the town) and its annual falconry festival, held at the beginning of summer.

Kerkouane (80 Kms)

Between Kelibia and El Haouaria, lies the punic site of kerkouane next to the sea which reveals a remarkable and unique punic town with its houses, temple and ramparts.The small museum close to the site has some Punic artefacts and jewellery.
Zaghouan (30 Kms)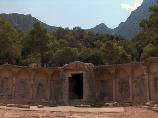 The town of Zaghouan nestles at the foot of Zaghouan Mountain. Here the Romans built a water temple on the site of a natural spring and channelled spring water from the mountain, via aqueducts, all the way to Carthage some 70 kms or more.