Explore tunisia...
Where do you want to go ?
Airports
World Heritage Sites
Beach Resorts
Archaeological Sites
Nature and Traditions
War Graves & Battlefields
Port el Kantaoui
Port El Kantaoui is a purpose built resort created in the late 70's and situated just north of Sousse. It features a lovely Andalucian style marina, parks and fountains, shops, restaurants, bars and cafes with most of its hotels built along its sandy beaches.
What to see
The Marina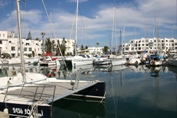 Port El Kantaoui is a previledged site just few minutes from Sousse. Its focal point is the 340 berth marina where you can admire the visiting yachts, stroll along the pleasant cobbled quasyside, shop in one of many boutiques, watch the world go by with a cold drink in a pavemetn café or sample the international cuisine in your choice of restaurant.
Nearby
Sousse (19 Kms)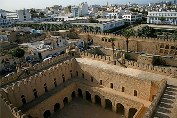 Sousse is a modern, thriving commercial port and holiday resort which stills retains its impressive history. The magnificent Medina, containing the Ribat, the Great Mosque and a fascinating museum, is witness to the town's historical importance. The modern town has shops, cafés, bars and discotheques and most of the hotels are set along the promenade or directly on the beaches to the north of the centre.
Hergla (20 Kms)
Hergla is a pretty, small, quiet, blue and white coastal town lying between Hammamet and Port El Kantaoui. It has a thriving aquaculture industry and is home to a popular Go Kart Park.
El Jem (65 Kms)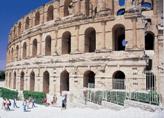 This unique Roman site is a large coliseum built by the Emperor Gordian around 230 AD. The amphitheatre and its underground chambers houses the gladiators and the wild animals.The museum with its collection of some of the best mosaics in Tunisia is also worth visiting.