Explore tunisia...
Where do you want to go ?
Airports
World Heritage Sites
Beach Resorts
Archaeological Sites
Nature and Traditions
War Graves & Battlefields
Sousse
Sousse is a modern, thriving commercial port and holiday resort which still retains its impressive history. The magnificent Medina, containing the Ribat, the Great Mosque and a fascinating museum, is witness to the town's historical importance. The modern town has shops, cafés, bars and discotheques and most of the hotels are set along the promenade or directly on the beaches to the north of the centre.
What to see
The Medina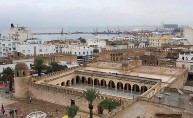 Sousse medina is a pleasure in many ways, with its high crenellated ramparts and the warren of alleyways in the souk makes it a fascinating place to explore.
The Great Mosque

The 11th century Great Mosque whose crenulated battlements and large circular corner towers make it look more like a fortress. Indeed, it probably started out as a Kasbah to defend the internal port.
The Ribat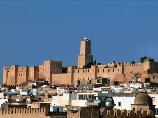 A sort of fortress for devout Muslim warriors, dating back to the 9th century, built to help defend the coast. From the top of the nador, the watch tower, you will have great views over Sousse.
Nearby
Port El Kantaoui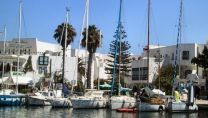 Is a purpose built resort created in the late 70's and situated just north of Sousse. It features a lovely Andalusian style marina, parks and fountains, shops, restaurants, bars and cafes with most of its hotels built along its sandy beaches.
Hergla
Hergla is a pretty, small, quiet, blue and white coastal town lying between Hammamet and Port El Kantaoui. It has a thriving aquaculture industry and is home to a popular Go Kart Park.
El Jem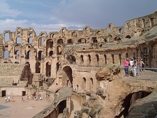 This unique Roman site is a large coliseum built by the Emperor Gordian around 230 AD. The amphitheatre and its underground chambers houses the gladiators and the wild animals.The museum with its collection of some of the best mosaics in Tunisia is also worth visiting.
Monastir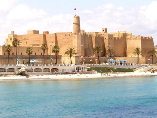 Situated 25 kms to the south of Sousse, a largely purpose-built tourist town of pristine streets and lavish landscaping. It has an attractive marina and an old fishing port. Its heart, the Medina is a fascinating place to wander and drink in the atmosphere.
Mahdia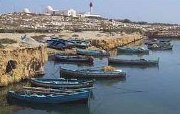 Mahdia, the ancient capital of the Fatimids, is set on a narrow peninsula. It has a busy fishing port, daily markets and a lively Friday market and is famous for its much sought after embroidery, lace and silk work.
Kairouan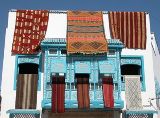 For Muslims, Kairouan is the fourth most holy place after Mecca, Medina and Jerusalem. It contains many mosques, with the Great Mosque - or the Oqba Mosque, named for the Arab conqueror Oqba Ibn Nafi - dominating the Medina.