Explore tunisia...
Where do you want to go ?
Airports
World Heritage Sites
Beach Resorts
Archaeological Sites
Nature and Traditions
War Graves & Battlefields
Matmata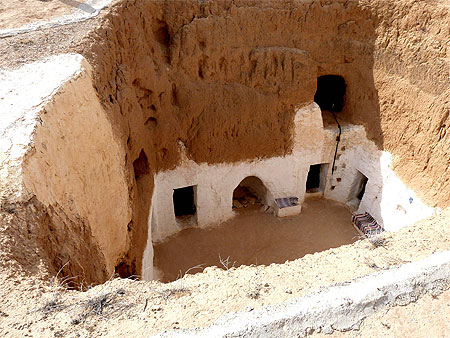 Matmata lies 40 km south of Gabès, surrounded by a landscape that is almost lunar and that will be familiar to lovers of the Star Wars movies.
A smaller community lived in mountain side homes before the Berber tribe of Matmata settled in the 16th or 17th century and built their 'pit dwellings'. The courtyard was dug straight down into the earth with rooms excavated into the surrounding walls and a covered passageway leading to ground level. Many of the inhabitants of Matmata still live in this way today and benefit from the natural insulation of the earth, keeping living quarters cool in summer and warm in winter.
It is possible to visit one of the 'troglodyte' dwellings on a visit to the town.