Explore tunisia...
Where do you want to go ?
Airports
World Heritage Sites
Beach Resorts
Archaeological Sites
Nature and Traditions
War Graves & Battlefields
Makthar (Mactaris)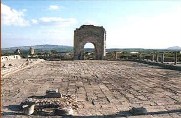 Set in outstandingly beautiful scenery, modern Makthar in Siliana Governorate, is situated at almost 1000 metres altitude, 140 km Northwest of Tunis and 60 km Southeast of El Kef.
The site of ancient Maktar lies across the ravine and includes:

A Museum with Neo-Punic headstones not to be missed. It holds a nice collection of artifacts showing the shift from Numidian to Punic to Roman culture.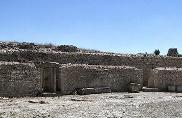 A Small Amphitheatre: almost nothing remains except the basis being restored, the places from where the contestants and animals were sent into the ring.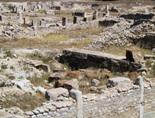 The Temple of Hathor Miskar ( a local divinity): of Ounic origins, the temple covers 47 lines over 10 columns. It has prooved that Punic cults survived for a long time after the Romans arrival.

A Triumphal Arch: the finest monument lying outside the ancient site next to the road. It was set for visitors climbing up the hills to the city.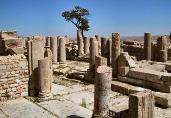 The 5th century Vandal Basilica of Hildeguns: it belongs to the time of the Vandals,this is one of few buildings from their period.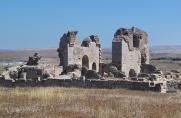 The Eastern Baths with some floor mosaics still in place. Ther are impressive, walls stand really tall and many of the pillars are intact as well as several of the geometric mosaic floors.

The Schola : a sort of exclusive club where wealthy young men gathered together.