Explore tunisia...
Where do you want to go ?
Airports
World Heritage Sites
Beach Resorts
Archaeological Sites
Nature and Traditions
War Graves & Battlefields
Oudhna (Uthina)
The ancient site of Oudhna (Uthina) lies at about 30 kms south of the capital, on the road to Zaghouan. Its location between Tunis and Hammamet makes it a great tourist attraction.Oudhna may very well become a great tourist attraction some time in the future. Oudhna is unmissable.


Worth visiting: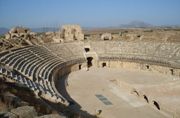 The Amphitheatre: Oudhna's amphitheatre is impressive. It is largely sunken into a hill and is partially reconstructed and could seat as much as 10,000 spectators.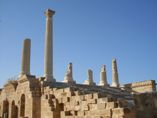 The Forum & the Capitol: the main focus after the amphitheatre is the forum, with its capitol, finest mosaics and impressive underground vaults dating back to the Byzantine era.

The Great Baths: are reported to be very impressive underground structures. Locals have named this part "Bat Tunnel" from the many bats living here before.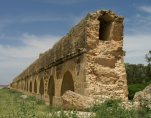 The Roman Aqueducts: 6 km from Oudhna, on the road between Mhammedia and El Fahs stand some of the finest Roman aqueducts in Tunisia once carrying water from Zaghouan to Carthage.
Where to stay
Where to eat and drink