Explore tunisia...
Where do you want to go ?
Airports
World Heritage Sites
Beach Resorts
Archaeological Sites
Nature and Traditions
War Graves & Battlefields
Kairouan
The holy city of Kairouan, The Capital of the Muslim Maghreb, stands as one of the most important features of Islam mainly: The Great Mosque, the Medina and other impressive monuments such as The Sidi Sahib Mausoleum & its magnificent ceramics. Kairouan is the main carpet-making centre in Tunisia. The nowadays Medina corresponding to a small part of the ancient town partly destroyed in the 11th century, occupies a special place in Tunisia heritage.
What to see
The Medina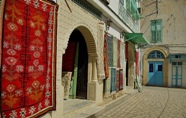 It is a fascinating maze of alleys and paths which has provided inspiration for painters such as Klee. It is crammed with shops and workshops making and selling jewellery, handicrafts and most importantly, carpets. Kairouan is the carpet-making centre of Tunisia.
The Great Mosque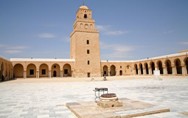 Also known as "Jamaa Oqba", founded in 670 by Oqba Ibn Nafaa and renovated in the 19th century occupying the corner of the Medina. It is a large irregular quadrilateral building with several access gates.
Sidi Saheb Mausoleum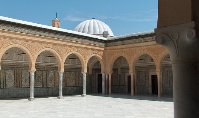 The Mosque of the Barber or Mosque of Sidi Saheb – this is the mausoleum of Abou Sammaa el Belaoui, a follower of the Prophet who kept with him hairs from the Prophet's beard.
The Aghlabid Pools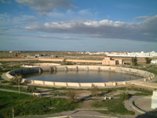 Were the city's waterworks- open reservoirs built in the 9th century – an amazing feat of Arab engineering to bring water to the town over 1000 years ago. Four of the original fourteen have been restored.
Nearby
El Jem (72 Kms)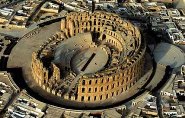 This unique Roman site is a large coliseum built by the Emperor Gordian around 230 AD. The amphitheatre and its underground chambers houses the gladiators and the wild animals.The museum with its collection of some of the best mosaics in Tunisia is also worth visiting.
Sbeitla (117 Kms)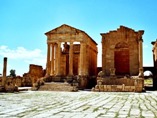 The Roman site at Sbeitla (Sufetula) lies just outside the modern town, on a flat plain. The site is well worth visiting and includes some excellent Christian remains. The forum, the mosaic bath tub, the Diocletian's Arch and the street layout are among the finest of their kinds in Tunisia.

Sousse (60 Kms)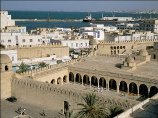 Sousse is a modern, thriving commercial port and holiday resort which stills retains its impressive history. The magnificent Medina, containing the Ribat, the Great Mosque and a fascinating museum is witness to the town's historical importance.


Where to stay