Explore tunisia...
Where do you want to go ?
Airports
World Heritage Sites
Beach Resorts
Archaeological Sites
Nature and Traditions
War Graves & Battlefields
Mides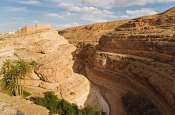 The mountain oasis of Mides has the old Berber village at one end of the oasis and the newer settlement at the other. From the top of the hill, above the narrow streets, the panorama is spectacular, with the old houses clinging to the rock face of a deep gorge.
Where to stay